Podcast: Play in new window | Download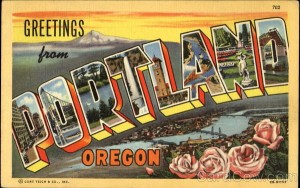 Episode #21 Greetings From Portland
Let's start this post with a note of thanks to all of you who have been listening to the podcast and visiting our Facebook page. Last week we saw an enormous increase in podcast-related traffic and we're super grateful to all of you for staying with us through the trials and tribulations of pulling together 20 episodes in the new incarnation of the show. Thank you!
This week's podcast is an "all music" show delivered with the help of many of the musical acts we've featured through the first 20 episodes: the legends of country, the pioneers or alt-country, the current standard bearers of Americana and a bunch of fantastic artists from the Pacific Northwest and specifically right here in beautiful Portland, Oregon, U.S.A.
We're deeply indebted to the friends who have helped us since the launch of the podcast last fall, especially the talented musical folks who have given their time to perform or be interviewed (or both) for the show. Several — such as Sarah Gwen, Freddy Trujillo, Joel Roth of the Low Bones and Miller & Sasser — are featured on this week's podcast, which includes lots of "tags" from said folks and also contains the world's shortest interview.
The sun is shining today in beautiful Portland, and we think we have your perfect soundtrack for the day. So let's get to it. Here's the playlist for Episode #21.
Newspaper, The Resolectrics
Cooke City, The Lonesomes
Wild American Runners, Arliss Nancy
Suicide Sal, Karen Jonas
What Is Truth, Johnny Cash
Bluegrass State, Truckstop Darlin'
Bye Bye Baby, Miller & Sasser
Arianne, The V-Roys
Border Radio, Kelly Willis & Bruce Robison
The Race Is On, George Jones
I Was Country When Country Wasn't Cool (with George Jones), Barbara Mandrell
Keep Your Promises, Matthew Lindley
90 Miles (The Tennessee Song), The Honeycutters
Sister Sinead, Kris Kristofferson
The Old Black Hen, Songs: Ohia
We'll Sweep Out The Ashes In The Morning, Gram Parsons
If You Come Around Here, The Swearengens
Loaded, North Twin
Something May Catch Fire, Chuck Ragan
Tom 33, The Low Bones
Woods, Sarah Gwen
Assimilation Blues, Trujillo
Winter Bloom, Celilo
This Land Is Your Land, Tim Barry
A Good Day To Be A Husband, I Can Lick Any Sonofabitch In The House
Christ For President, Billy Bragg & Wilco
Too Lazy To Work, Too Nervous To Steal, BR5-49
Another Place Another Time, Jerry Lee Lewis
Bartender Blues, Countryside Ride