Is he a hot-shot electric guitar-playing gun-for-hire, or is he really just a folkie trapped in a shredder's body?
Aaron Lee Tasjan's still young and precocious enough to be whatever he wants to be. The 20-something Ohio native has made a name for himself playing guitar as a member of numerous well-known rock bands, including Alberta Cross, Everest, the New York Dolls and Drivin' N Cryin'. He's also a noted songwriter — his songs have been picked up by the likes of Jack White and country star Pat Green.
And if you search the internet for Tasjan, you'll find pictures of him hanging out and playing with a dizzying array of New York City rock and folk legends, people like Blondie drummer Clem Burke and Patti Smith Group guitarist Lenny Kaye. The list goes on and on.
But folks on the East Coast also know Tasjan for his solo act, where he combines his ample talents for guitar playing and clever songwriting. It's all on display on his debut solo EP, "Crooked River Burning," a terrific five-song release that came out earlier this year.
Listen to "Don't Walk Away" from Crooked River Burning:
"Don't Walk Away" by Aaron Lee Tasjan
He recently completed a co-headlining tour with rising alt-country star Caleb Caudle and will be holding down a week-long residency at Al's Den in Portland, starting Sunday, July 20. That Much Further West Podcast producer and co-host Phil Favorite caught up with Tasjan for a conversation as he prepared for his trip to Portland.
TMFWP: You're fairly well known in the rock community as an electric guitar-playing sideman, but you are also a guy who embraces his folkier side. What can we expect to hear and see at the residency?
ALT: Funny enough, that's exactly what you will hear — rock and roll guitar over top of folk songs. I actually started in folk music, though. My first gig ever was opening for Peter Yarrow (of Peter, Paul & Mary). Doesn't get more folk than that!
TMFWP: Well, since you mentioned Peter Yarrow, we have to ask about all the legends who you've played with both publicly and privately. As a guy so young, do you ever have to pinch yourself to make sure you're not dreaming?
ALT: Yes, I constantly have to pinch myself. Earlier this year in Mexico I was playing guitar with my favorite band Drivin' N Cryin'. On our last song John Paul Jones (of Led Zeppelin) walked on stage and played mandolin and sang with us. We also had rock and roll dynamo Chuck Prophet on stage for that one, too. One of the highlights of my life.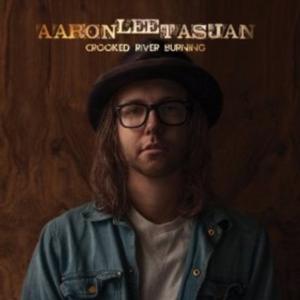 TMFWP: The new EP allows listeners to hear your voice and learn more about your songwriting. Does it feel good to share your own songs instead of playing everybody else's?
ALT: Yeah, most people don't know it but I was always making up songs. My songs have been recorded by Pat Green, BP Fallon and Jack White and have been on TV shows like "The Voice" and a couple movies, too. Most recently "The Way Way Back" starring Steve Carell. I've been playing and singing my songs for people for 10 years. The guitar-playing thing is just a side note to what I really do.
Listen to "Junk Food and Drugs" from Crooked River Burning:
"Junk Food and Drugs" by Aaron Lee Tasjan
TMFWP: How's the response been to the EP since its release in March?
ALT: Very proud of the EP. I've gotten a great response. I can't believe that it continues to reach people. I credit the musicians who played on it with me like Anton Fier, who also produced it, and Chris Morrissey, Tony Scherr, Rich Hinman, Grey McMurray and Erik Deutsch. They're the real heroes.
TMFWP: Have you ever toured the West Coast or been to Portland? What are looking forward to most about the residency and/or tour?
ALT: I have toured through there before opening for both Everest and Alberta Cross. I love Portland. I look forward to accidentally guesting on Portlandia, starting my own microbrewery and fashioning a canoe out of a tree to ride to the gig each day.
Aaron Lee Tasjan plays Al's Den at the Crystal Hotel in downtown Portland July 20-26. Shows start at 7 p.m. and all are free. Guests include local acts Casey Neill, Kris Stuart of Root Jack, Kathryn Claire and Jake Ray. For more information, visit the Al's Den website.