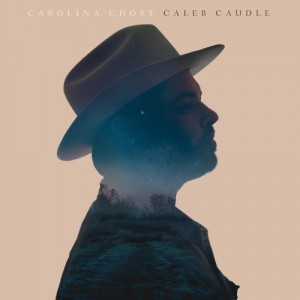 Carolina Ghost by Caleb Caudle (2016, This Is American Music)
By MIKE LEE
For That Much Further West Podcast

I first became aware of Caleb Caudle when someone I was acquainted with on Facebook posted a link to the video for his 2014 song "Trade All the Lights." I became somewhat obsessed with the song and video and it led me to discover other offerings from Caleb.
When Caleb started posting on social media about his upcoming album I was pretty excited to get my hands on a copy and soak it in. I now have been living with this album for the past six weeks and I keep going back to it over and over.
The songs are new and fresh yet instantly familiar and comfortable. I always have been drawn to a song that feels like it belongs to me. I don't claim to write the lyrics or play the music, but when a song has a tangible quality and feels like I have always known the words or hummed the melody, those are ones you can live with and carry with you through life.
Carolina Ghost hits all the marks with top-notch songwriting and great musicianship. Songs about love, friendship, addiction and the never-ending changes in the carousel of life are the hallmarks of a great country album, one that relies on the strength of the storytelling and music to stay above the fray of mass-produced crap.
The new and rising vanguard of country artists (Isbell, Stapleton, Simpson, etc.) definitely has a new comrade in Caleb Caudle. I look forward to the future of real country music with these sluggers at the top. Now if we could just get Caleb to tour the west coast!!!!
Mix tape Trio Bravo: "Carolina Ghost" / "Tuscaloosa" / "Borrowed Smiles"
Listen to "Carolina Ghost" Carolina Ghost
Listen to "Tuscaloosa" Tuscaloosa
Listen to "Borrowed Smiles" Podcast Picks 2-1-16