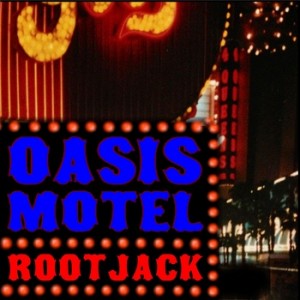 Root Jack, Oasis Motel (2014, self released)
What happens in Vegas doesn't always stay in Vegas. Sometimes it sticks with you for the rest of your life.
Kris Stuart — leader of the rootsy Portland-based riff-rock trio Root Jack — once thought it would be a good idea to move to Las Vegas. But as he likes to tell the folks attending his live shows these days, "It turned out to be a terrible idea."
Still, there are lessons to learn and inspiration to draw from the deep, dark side of The City of Sin. On Oasis Motel, Root Jack's recently released sophomore CD, Stuart brilliantly mines the more troubling aspects of life in Las Vegas to deliver a set of songs full of caveats, crushed dreams, seedy characters and enough good humor to form a collection that equals or eclipses the band's sparkling debut, In The Pines.
"Whatcha gonna do when the money's gone?" Stuart asks in "The Rent," a slow-burner from the new disc that features Root Jack at its whiskey-soaked best. Drummer Chris Hutton and bassist Kevin Cowan lay down a gooey groove that moves and sticks like molasses, and Hutton's soaring harmony vocal in the chorus helps drive home that musical question like a dagger to the ribs. Stuart gives the knife an extra twist with a greasy slide guitar solo that displays his Southern rock background and prowess.
Listen to "The Rent"  The Rent by Root Jack
Stuart's move to, brief stay and subsequent exit from Las Vegas are all at the heart of Oasis Motel, which kicks off with "Dead Man's Hand," a cock-sure musical parable that should be instantly recognizable to fans of the band's first CD. "If pleasure and treasure ain't all that you hold dear/Turn that thing around right now and just head on out of here."
On the instrumental "The Strip," the band lets the music do the talking with the help of a sinister organ solo by ace guest Edward Connell. Add in more killer slide work from Stuart and you have a quick, minute-fifty of Root Jack at their most funky.
Of course, you can take the boy out of the South but you can't remove those Southern roots. On "Rise Again," Stuart opines that Mother Nature always will have the last word even when unnatural disasters such as the Deepwater Horizon catastrophe threaten a people's heritage and way of life. "Rise Again" ranks right up there with the best songs in the Root Jack catalog so far.
Listen to "Rise Again" Rise Again by Root Jack
The message on Oasis Motel is pretty clear: greed and selfishness, they'll only get you so far. They'll leave you jealous, broke and alone. But "when you give all of yourself, you bring the heaven and chase the hell," Stuart sings in "Think To Much." (sic)
The CD wraps with a stunning interpretation of "Oooh Las Vegas," the Gram Parsons-Rick Grech-penned classic that's been covered many times but never quite like this. It's the perfect end piece for a terrific CD that gives the listener a peek into the dark soul of Las Vegas while providing a thrilling, top-down joyride through the Valley of Fire.
— PHIL FAVORITE
That Much Further West Podcast
Catch Root Jack live this Friday, Feb. 28, when they perform at Secret Society in Portland as part of The Low Bones album release party, and learn more about Root Jack at their website.