Podcast: Play in new window | Download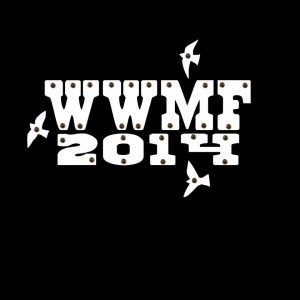 Episode #32 — Wildwood Memories 2014
Another Wildwood Music Fest & Campout is in the books, but the hangover continues. Our podcast hosts convened in their private clubhouse, The Helm, to relive the event and tell stories alongside our pal and guest Kris Stuart from Root Jack, one of the many great performers from the festival.
Co-hosts Eric Kotila and Mike Lee and Kris share tales from the weekend — some of the best revolve around the performers like Willy Tea Taylor, Brothers Of The Last Watch and Saturday night headliner Larry And His Flask. Alas, third amigo and co-host Phil Favorite missed the festival while on vacation with his family, but he still manages to share a few tales from the road, including his interaction and interview with hot young musician Aaron Lee Tasjan that published here at the TMFWP website while he was gone.
Speaking of Mr. Tasjan, Kris tells us about playing as part of ALT's recent week-long residency here in Portland and also tells the story about Root Jack's eventful set at Wildwood, when the lights went out and a horse-headed dancer appeared. Then Kris shares a song from one of his cool side projects, The John Brown Band, and recaps his Sunday morning performance with the Wildwood All-Star Review doing a tribute to Creedence Clearwater Revival.
With Wildwood 2014 behind us, we're lining up guests to finish off the summer podcast season in style. You'll also be hearing in coming weeks about the That Much Further West Podcast live showcase called "Further West Fest" scheduled for September 19 at Dante's here in Portland.
But for now, crank up our Wildwood recap episode. Here's the playlist. Enjoy.
Frank T. James, Brothers Of The Last Watch
Big Jim's Guitar, Willy Tea Taylor
Stopping By, Jason Isbell & The 400 Unit
Don't Walk Away, Aaron Lee Tasjan
Stingray, Jim Lauderdale
Beyond The Moon, Old Man Markley
Fine Foods Market, Tim Barry
Tell My Mother I Miss Her So, Ryan Bingham
The Mill Whistle (Live In The Helm), Kris Stuart
Wichita Skyline, Drag The River
Truckdrivin' Neighbors Downstairs (Yellow Sweat), Beck
As Long As There Is Whskey In The World, Murder By Death
Country Boy, Johnny Cash
Nobody Gives A Damn About Songs Anymore, John Moreland