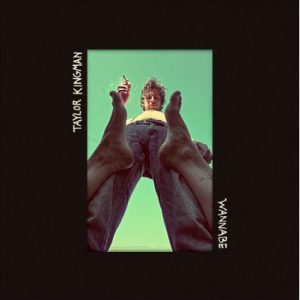 Wannabe
by Taylor Kingman
(2017, Mama Bird)
By ERIC KOTILA
"I wannabe strong. That time I proved I was right, I was wrong."
I love records where the artist opens up and shares everything they have. For some songwriters (John Moreland, Willy Tea Taylor, Micah Schnabel), it just comes naturally and they do it all the time. Others (Jason Isbell, BJ Barham) share it from a period in their life when there is growth. Taylor Kingman is among the latter, and it's evident on his solo debut, "Wannabe."

I first met Taylor at the 2013 Wildwood MusicFest & Campout as lead singer of The Hill Dogs and, I must be honest here, I was not impressed. A late start to his showcase set and a missed slot at the Sunday morning review showed me a kid still trying to figure things out while having the time of his life. Soon afterward he was spending a lot more time here in Portland and a few friends who also saw the Wildwood performance said I should get to know him better and see him for the talented, good-natured kid that he is.

Getting to know more about Taylor the person, I discovered a kind spirit with a big smile who truly loves music. We had him and The Hill Dogs on the podcast (see Episode #72) and I could tell immediately he had figured stuff out. He launched an open mic on Sundays at The Laurelthirst Pub, challenging all comers with a new songwriting theme each week. He started hanging and playing with the regular musicians there as well. This is where we have seen him shedding his old skin for new. His songwriting is amazing and has matured so much. We all witnessed a rebirth at Wildwood 2016. The Hill Dogs were perfect and blew everyone away.
Now Taylor has made an honest and truly great solo record.
"I wannabe forgiven for everything I knew. I wannabe true."
To purchase a CD, cassette or digital download of "Wannabe" by Taylor Kingman, visit his page at the Mama Bird Recording Co. website. Taylor will be performing songs from "Wannabe" and also playing with his band TK and The Holy Know Nothings on Wednesday, Nov. 29 at Mississippi Studios.
Listen to "Wannabe" on Spotify, courtesy of Mama Bird Recording Co.: