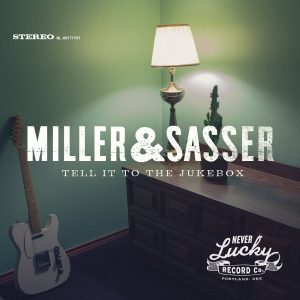 Miller & Sasser
Tell It To The Jukebox
(2017, Never Lucky)

By PHIL FAVORITE
There's a small AM radio station north of Seattle that plays what I would define as classic country music — the hit songs I heard in my mother's Ford Granada (no FM radio) back in the 70s and 80s. I wasn't a huge fan of that music back then, but these days when my travels take me up that way, I love switching to that station because it offers such sonic relief and pure contrast from the same-sounding singers, songs and raunchy, computer-generated beats that populate country music radio today.
I get that same feeling of "ahhh" listening Tell It To The Jukebox, the new CD by the Portland-based country duo Miller & Sasser. Their music takes you back to the early 70s when the Charlies — Charley Pride and Charlie Rich — were dominating the charts with songs that went straight for the heart instead of the crotch. No bedazzled jeans here; just great songwriting, killer picking and some really, really fine singing.
The title cut — with its tight twin telecasters and vocal harmonies — tells of a love gone wrong from too much time in the honky tonk. "Lonesome Eyes" is a masterful demonstration of country melody executed with a terrific twangy mix of mandolin, acoustic and electric guitars. And the clever combination of guitars and the smooth vocal delivery of Chris Miller on "Way Out Of No Way" will take you right back to 1974.
More than simple nostalgia, the 10 original songs on Tell It To The Jukebox show how two talented country artists — Mr. Miller and his partner James Sasser — can use the old playbook and still deliver a sound that feels crisp and refreshing.
And if you close your eyes, you can imagine what the AM radio in my mom's Granada sounded like during country music's Golden Era.
Podcast Trio Bravo:
Listen to "Tell It To The Jukebox":  Tell It To The Jukebox
Listen to "Way Out Of No Way":  Way Out Of No Way
Listen to "Lonesome Eyes":  Lonesome Eyes
To download or purchase a copy of "Tell It To The Jukebox," visit Miller & Sasser's page at Bandcamp. Miller & Sasser will be performing live at the Laurelthirst Public House in Portland on Friday, Nov. 10 with Matty Charles + Katie Rose. Visit the Miller & Sasser website for more info.