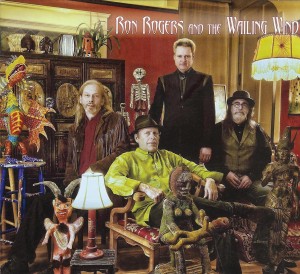 Ron Rogers And The Wailing Wind (2013, Civil Defense; www.civildefensemusic.com)
Like any great bar band, Ron Rogers and The Wailing Wind are groove merchants. They never fail to deliver that special, sneaky musical something that gets toes tapping and backsides wiggling.
And on their new, self-titled CD, they prove equally adept at capturing the groove in the recording studio. Right from the start of the first song, "Hard Working Hands," the band settles into that fluid place where rhythm, tempo and tone melt together and begin to seep into the listener's bloodstream.
Credit Rogers — the Portland band's lead vocalist and guitar player — for his ability to ingrain the groove in the varied, soul-soaked Americana music he writes. There's a swampy, gravelly, back roads quality that runs throughout his work. It's all over this new CD, just like it was on the band's previous release, 2011's stunning Country & Eastern (2011).
Four songs into the new disc, it's hard not to get lost in the hypnotic groove and excellent, southern-fried storytelling that are the hallmarks of Rogers' work. Just then, during the later moments of "Kid Stormy Weather," the song takes a left turn down a dream-like path paved in tremolo and delay.
From there, the listener travels into a revival world of saints, sinners, preachers and anti-heroes, where salvation awaits the wanting but where Satan is always lurking around the corner, waiting for another shot at the soul.
While the songs feature enough curious characters and musical quirks to keep listeners on their toes, the band doesn't stray much from its signature sound, with the pedal steel guitar and Rogers' electric holding the spotlight. On "Rad Johnny," Rogers and steel player Dave Grafe trade licks with playful ease. All the while, drummer Chris Bond and bassist Don Campbell hold down the groove with a smart, uncluttered approach.
Several of the songs on Ron Rogers And The Wailing Wind rank among Rogers' best. Tunes like "When My Baby Gets Down," "Haywire" and "Soul Salvation" are instantly recognizable after just one listen and demonstrate best how a great bar band operates: lay down the groove, load up the dance floor, then burn the place down.
— Phil Favorite
That Much Further West Podcast