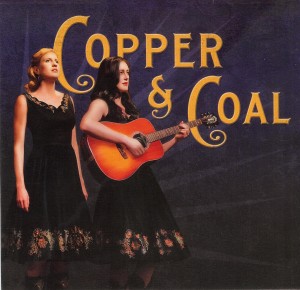 Copper & Coal (2013, self released)
The women of Copper & Coal present a striking vision on stage. With their beautifully detailed evening gowns and towering presence, they demand your attention even before the first note of music is played.
Their voices, though, prove even more arresting.
Check out "Kentucky Blue" (www.reverbnation.com/copperandcoal/song/18224686-kentucky-blue) from their new self-titled debut. A short line of steel guitar opens the ears to the signature sound of Leslie Beia and Carra Stasney harmonizing in a pitch-perfect union that recalls the best of old Nashville.
No auto-tune needed here, folks. These ladies can really belt it out, which they demonstrate throughout this 10-song collection produced by local country legend Caleb Klauder.
Having common roots growing up in their native state of Michigan, and a shared love of country music, the vocal duo came together at Beia's regular Monday night gig at the Landmark Saloon in Portland. Almost instantly, they found they were on to something special and drew the attention of some of the finest local players — all standing at the ready to back them up.
Branching out, Beia and Stasney were determined to produce a recording to share with a growing audience. Klauder answered the call and along with engineer Jordan Leff helped create this collection of classic-style tunes that would have sounded great on country radio in the 1950s and every era since.
Copper & Coal also gave Stasney and Beia a chance to flex their formidable songwriting chops. The disc features just one cover song, Dolly Parton's "Dagger Through The Heart," which fits nicely among the nine others (included seven written by Stasney specifically for the project).
And they hit all the right classic-country notes with songs of longing, drinking, honky -tonking, heartbreak and cheating. Buoyed by terrific performances on fiddle (Luke Price), steel (Gary Newcomb, Russ Blake) and mandolin (Klauder), the music takes the listener back to a time when content mattered and talent trumped all.
An impressive debut, Copper & Coal is sure to draw in new fans to a classic stye of country music, and also bodes well for an act just starting to take off.
— Phil Favorite
That Much Further West Podcast