Podcast: Play in new window | Download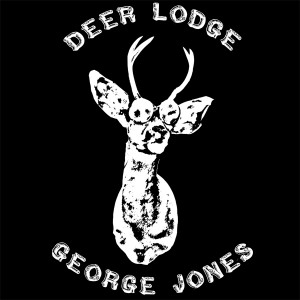 Episode #9 Deer Lodge George Jones tribute
By PHIL FAVORITE
Welcome back to the blog everyone. Super stoked to share this week's episode featuring songs from the great new tribute to country legend George Jones compiled by producers Ezra Meredith and Bert Sperling of the Deer Lodge. The project, which features 30 songs on two CDs — more than 20 of which were recorded at the Deer Lodge studio in Portland — is due to be released locally in Portland toward the end of December, and we at That Much Further West Podcast are beyond thrilled to be able to share so many of the tunes in this week's episode.
We invited Ezra and Deer Lodge recording artist Nate Wallace of Hearts of Oak (who has a track on the tribute) to join us in The Helm for the recording of the episode, and Mike, Eric and I had a great time hanging with these two fine gentlemen. Both are super talented dudes: Nate's an awesome songwriter who I greatly admire as both an artist and a friend, and Ezra's an extremely musical engineer with an tremendously deft touch in the studio and phenomenal taste in music. Big thanks, dudes, for taking some time for us. Good whiskey, good times.
So, how to describe the Deer Lodge? Well, it's both a record label and physical plant. From the outside, the place looks like your typical unassuming single-family suburban home. But beyond that streetscape lies a three-pronged musical monster: the basement of the home serves as the recording studio space; the garage is a clubhouse complete with a bar with running taps and is decorated as a tribute to great music and culture from the 60s and 70s; and the backyard features a covered stage and a performance space for shows hosted during the summer months.
Over the past several years, I've become a quite of fan of the music coming out of the studio, with records from Drunken Prayer, Hearts of Oak and the Meredith Brothers in steady rotation. But I'm simply blown away that Ezra and Bert managed to bring this compilation from conception to fruition in just six months.
The project features a number of personal friends and many of local Portland acts that I've come to admire over the last few years. It also has several artists and bands I'd never heard before, which makes it a rewarding listen in multiple ways. So cool.
I'm sure you'll agree once you give the new episode a spin, so without further adieu . . . After the show theme (Lucero's That Much Further West), here's this week's playlist:
Songs from Deer Lodge, A Tribute To George Jones
White Lightning, Sassparilla
Still Doing Time, Lewi Longmire with the Portland Country Underground
The Race Is On, Water Tower
When The Grass Grows Over Me, Tyler Stenson
Walk Through This World With Me, Copper & Coal
The Grand Tour, Keeter & Ali
Seasons Of My Heart, The Tumblers
He Stopped Loving Her Today, Stephanie Lynn
Tennessee Whiskey, Brush Prairie
The Ghost Of Another Man, Shawn Smith
Wings Of A Dove, Fernando
We're Gonna Hold On, Hook & Anchor
The Battle, Meredith Brothers
If You Couldn't Get The Picture, Bert Sperling
Must've Been Drunk, Hearts Of Oak
Golden Ring, Neon Renaissance
The Door, Owen Grace
I Just Don't Give a Damn, Gabe Rozell
Selfishness In Man, Drunken Prayer
Man, what a great collection of music. Be sure to look these artists up to learn more about their music and when they're playing out live near you. And Portlanders, look for me at the George Jones Tribute record release celebration at The Landmark Saloon on Dec. 20. Stay tuned for more news about the worldwide distribution of the double disc and for more music from the tribute in coming episodes.
Thanks again for tuning in! Enjoy the Episode.